BUYERS BEWARE
ATTENTION ALL BULLMASTIFF OWNERS
What is a registered breeder?
Anyone over the age of eighteen with a mailing address can become a registered breeder in their state. It requires an application for a prefix, which means paying a fee to the state's controlling body.
There is no requirement for the newly registered breeder to have any specific breed knowledge, or experience, nor to carry out any mandatory health testing, e.g., hip and elbow scoring of the parent dogs prior to breeding a litter.
With the modern day emphasis on purebred and pedigree dogs, the attraction for those who do not have the breed's welfare at heart, but are producing for monetary gain, a set of papers will always bring in a higher price.
An ethical breeder, on the other hand, will have, as a minimum, health tested parents and be able to produce official hip and elbow scores from a recognized Australian Veterinary approved reader.
An example of hip and elbow scores can be seen below.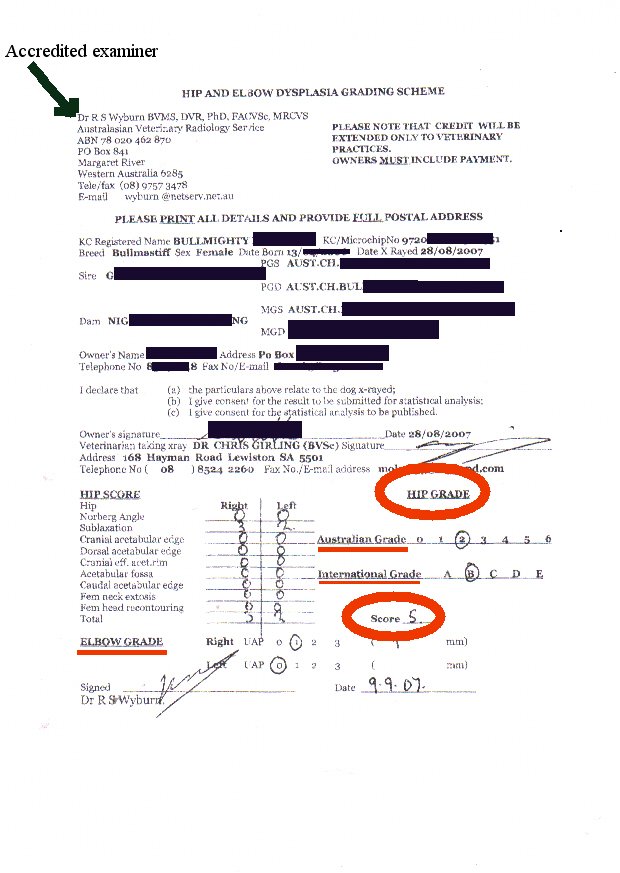 If you are buying a puppy from an ethical breeder you would ask and be shown exactly the type of form above for EACH of the parents of the puppy you are buying. If the breeder cannot / will not show you the scores, you would be advised to keep your money in your pocket and probably save yourself and your family potential heart ache.
All breeders who are members of the Bullmastiff Club of South Australia Inc have, as a condition of membership, agreed to abide by our code of ethics, which includes scoring any dogs prior to breeding, thus giving the puppy buyer some avenue of recourse if something does go wrong.